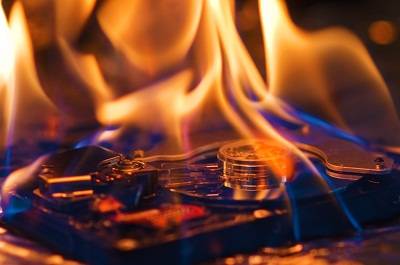 Servers are one of most powerful pieces of equipment in the office, but that does mean they are the toughest. The hard drives in servers are made up of ridiculously fast moving parts. One day, these small parts will fail and end the server's life with a sudden crash. Here are a few steps you can take to prepare for server doomsday.
Because crashing is an eventuality, manufacturers will recommend that you cycle out your old server for a new one every 3 years. For companies on a tight budget, this recommendation may fall on deaf ears, but there is truth to this advice that goes beyond profits. The reason for this recommendation is because servers are designed with a 99.5% uptime. These moments of downtime are more likely to take place towards the end of the server's lifespan, which will typically be beyond the 3 year mark. With a new server, you may see little-to-no downtime in years 1-through-3, but after that, you may experience more downtime during your fourth year than in years 1-through-3 combined.
Backup with a BDR
The prospect of your server crashing and losing your data is a real risk. The first thing you will want to do is make sure the data on your server is backed up. We recommend using a Backup and Disaster Recovery (BDR) solution. A BDR will backup all of your server's data offsite; this way, if there is ever a disaster, such a hard drive crash or an even worse disaster like a meteor crash, your data will be safe and can quickly be retrieved using a replacement server.
Virtualize Your Servers
If your business has been maintaining an IT network for a few years, then you may have accumulated multiple servers. You may even be using a few server units that are older than three years old--these older units may be the likely culprits behind several of your network's problems. The reason you may have extra server units is because, in the past, the purchase of a new application used to require the purchase of a new server. These dedicated servers hosting only one app might have only been utilized by 20-to-30%, and newer server units are more powerful than ever.
With server virtualization, SMART Services can take your most powerful servers and consolidate the applications of older servers into newer units that are underutilized. With a server virtualization makeover, you will be able to consolidate 3-to-10 applications into one server. This will allow you to junk the older servers that have been causing you problems and minimize the risk of a server crash.
Virtualize Wisely
Server virtualization is a great way to minimize the risks of a server crash, but it will not completely eliminate the risks. The hard drives on your servers are still at risk of crashing due to tiny parts moving at thousands of revolutions per minute. Another step you can take to minimize the risk of a crash is to be smart about virtualizing your applications. You will do this by moving your most mission-critical applications to your newest and best servers. These are the applications that you use every day and are accessed by everyone in your company. In contrast, you likely have additional not-as-important applications on your network. Your medium-grade server units would be a good home for these apps. This way, if the medium-grade server goes down, then all of your mission critical applications will still be online.
SMART Services can provide you with a BDR solution, as well as consolidate your server units with server virtualization. Both of these procedures will minimize the risks associated with a hard drive crash. These are just few of the ways SMART Services can protect your business from downtime. With our managed IT services, we can remotely take care of computer maintenances and keep all of your PCs running smoothly. Call SMART Services at 586 258-0650 to learn more.