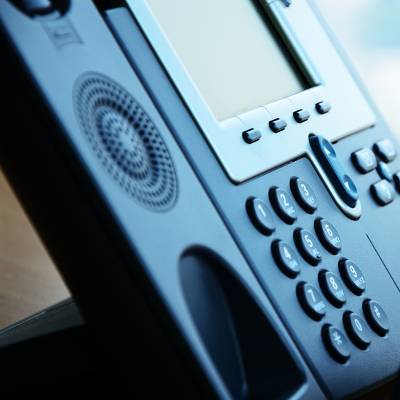 When we were kids, playing tag was fun. As grownups, we often lack the energy to enjoy a good game of tag. Phone tag is one version of tag that adults still play, but it's not nearly as fun as the version of tag that we played back in the schoolyard. A communication solution like VoIP is a great way to eliminate phone tag so you never have to be "it."
Voice over Internet Protocol is an innovative all-in-one communications solution that uses your Internet connection to provide your company significant savings on your long-distance phone bills. In some cases, the savings are as high as 70%! A typical VoIP plan also comes loaded with features that help streamline a businesses' communications, and because VoIP uses the Internet, you are able to get these features for significantly less than they would cost with a traditional phone plan.
The VoIP feature that eliminates the maddening game of phone tag is called, "Find Me, Follow Me." To remind you what a typical game of phone tag looks like, and to help explain why this feature is so valuable, we will go over a hypothetical phone tag scenario:
CUSTOMER: Calls your office about a lucrative contract right when you leave your desk for a bathroom break. The customer leaves a voicemail. Tag, you're it.
YOU: You return to your desk and due to an interview that immediately takes place, a whole hour goes by before you check your voicemail. You call them back, and because they are busy, your call is sent to their voicemail and you leave a message. Tag, they're it.
CUSTOMER: After a few hours goes by on their end, the customer gets around to checking their voicemail. They return your call, but because you're in a different time zone, you have already gone home. They leave a message with the expectation that you will call them back the next day. Tag, you're it.
YOU: The next morning, you arrive at your office and check your voicemail. You return the customer's call only to be sent to their voicemail because they are out due to a family emergency. Tag, they're it.
CUSTOMER: The customer's family emergency happened on a Friday; the Friday before a national holiday where everybody gets a three-day weekend. Which means it will be four days before they get around to checking their work voicemail. They're still it.
During this four-day outing, your customer went golfing and played a pickup game with his friends and some friends of his friends. During the game, everybody gets to know each other and becomes chums. It turns out that one of your customer's new golfing buddies does the same thing you do for a living, imagine that. They hit it off and soon they're discussing business. Your customer remembers the lucrative contract that they were meaning to talk to you about and mentions it to your competition. Details are discussed, promises are made, and you just lost the contract.
Your old customer will forever be "it." After the holiday, you return to your office and call them back. They have Caller ID and do not bother answering their phone or returning your call. You reach out to them three times throughout the week, two times the next week, and only once the following week. After a month goes by without hearing back from them, you give up calling them. After a few more months go by of not hearing from them you go ahead and downgrade them on your contact list, thinking to yourself, "I wonder what happened, I hope they are okay."
If your office was equipped with "Find Me, Follow Me" from VoIP, then you wouldn't have missed your customer's call, and made the sale. If you had "Find Me, Follow Me," the customer would have called your office phone while you were out, and after your office phone rang a couple of times without being picked up, the call would then seamlessly be transferred to your cell phone. While taking a break, you would then answer their call, land the sale, and never be "it."
To take advantage of the cost-saving features of VoIP for your business, and never again lose at phone tag, then call SMART Services at 586 258-0650. We promise to answer our phone and not start a game of phone tag.