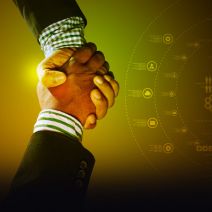 How involved in your operations is your IT department? Does your SMB even have an IT department? Many organizations tend to consider IT an afterthought because they don't believe themselves to be targets for hackers, or don't anticipate costly technology issues. However, these business owners underestimate the power of complete transparency between an organization and IT.
Depending on your situation, you might have an internal IT department that focuses on daily operations, or one that focuses solely on innovation, leaving your users to handle the various daily maintenance and upgrades your network needs. While this is better than no IT department at all, you run the risk of user error that could potentially leave your infrastructure unguarded; or worse, breached and compromised by hackers.
This is the primary reason you want your IT department to be in complete and total contact with the rest of your business's departments. It smooths operations and makes troubleshooting issues much easier than if you're relying on those who aren't trained professionals. Plus, ensuring that your IT department is in contact with the rest of your team allows for them to communicate network troubles, server issues, email complications, and more. This helps to make sure that everyone is on the same page, and thus, understands that situations are under control and being addressed.
For example, one of your users isn't skilled at working with technology. They might experience simple issues, like being unable to access the network or having difficulty working within your chosen email solution. Instead of bothering your internal IT department, which should be primarily focused on implementing new time-saving solutions, they can contact SMART Services's Help Desk.
When you work with SMART Services's experienced, helpful IT staff, you get the quality of work you expect from an internal IT department at a fraction of the cost. Not only are our technicians more than capable of solving average, day-to-day issues, they're also skillful and knowledgeable enough to diagnose and treat more serious problems with your IT infrastructure. It's our mission to know and understand the nuances of your network so a user can't catch us off guard.
At the end of the day, SMART Services wants to be your go-to source for any and all technology-related issues your business might encounter. We work with you to establish clear, concise expectations, so you can always know what services you're getting, and at what cost. There are no secret fees or hidden add-on costs.
For more information on how we can help your business succeed, give SMART Services a call at 586 258-0650.