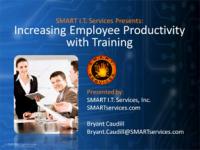 Did you know that untrained users take up to 6 times longer to accomplish work as trained users? In addition, the time for recouping the cost of training is less than nine months, and the return on investment is estimated at 165%.
The Gartner Group revealed these astounding facts in their 2007 study of employee training and its relation to productivity in the workplace.
So how can your agency utilize training to increase employee productivity, without spending a fortune?
In this webinar, you will learn how to structure formal and informal training programs to get the most out of your staff and boost productivity. You will also learn how to take advantage of a variety of resources, many of which are available at little or no cost.



Part 1:


Part 2:


Part 3: