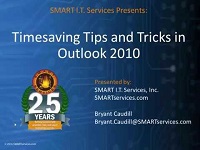 We've all been there. While working in Outlook, someone looking over our shoulder says, "Why don't you just use such-and-such shortcut?" We thank them, realizing we could have saved a lot of time had we known about this tip years ago.
Bryant Caudill, lead project manager for SMART Services, taught this informative and helpful 30-minute webinar on June 22, 2016. He covered: (1) timesaving shortcuts in Outlook; (2) collaboration tips in Outlook you should know about; and (3) helpful new features in recent versions of Outlook.
Click here to watch the video on our YouTube channel.