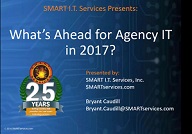 Are you aware of the major technology changes and shifts coming in 2017? And have you developed a plan to review and answer some of these tech questions?
• Whether a move to "the cloud" is right for you?
• What are the best email encryption options available?
• How do I employ an eSignature program for applications?
• Should I begin using Dropbox for sending large documents?
• Is it time for a PC and server upgrade?
With some major technological changes on the horizon this year, let Bryant More...Caudill show you what should be on the review list of every independent agency, and how to plan for the changes ahead.
Click here to watch this seminar on our YouTube Channel.