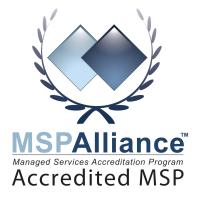 CHICO, CA (October 7, 2008) – The MSP ALLIANCE, the industry's leading association focusing on Managed Services, announced that SMART I.T. Services, Inc. has been certified under the Managed Services Accreditation Program (MSAP). MSAP is the industry's only benchmark-based program that measures financial status, business practices, client references, service delivery processes and business capacity. SMART I.T. Services, Inc. is the first accredited MSP from Michigan and is the only accredited MSP in the state at the time of this release.
"The Managed Services Accreditation Program is a rigorous program that benchmarks and verifies the actual quality of individual managed service providers' offerings," said Charles Weaver, president, MSP Alliance. "As part of this prestigious body of MSP's, SMART I.T. Services, Inc. will now be able to assure its customers as to its ability to deliver the highest-possible quality service."
In addition to being the first accredited MSP in Michigan, SMART I.T. Services, Inc. is one of the first 50 providers accredited in the world out of over 7,000 MSP Alliance members.
"Since the inception of S.M.A.R.T. Services® over six-years ago, we have been successful with helping agencies increase their productivity, stabilize IT costs, and improve their technology infrastructure," commented Jerry Fetty, CEO of SMART I.T. Services, Inc. "This accreditation reflects our commitment to our customers."
About SMART I.T. Services, Inc.
S.M.A.R.T. Services is a proactive technical support solution that remotely provides 24x7 proactive network monitoring and management. It proactively identifies and fixes potential problems, helping agencies reduce network downtime and associated costs, free-up IT resources, increase employee productivity, and focus on their customers. Additionally, SMART I.T. Services, Inc. is a Microsoft Gold Certified partner who specializes in networking, telephony, and electronic document management solutions. For more information, please visit SMARTservices.com.