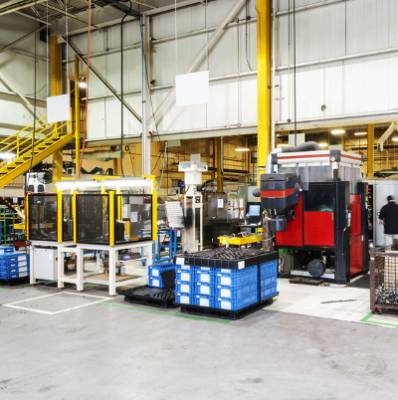 Every small business owner has to overcome the problems that come with having a lack of capital. Owners and managers of a small or medium-sized manufacturing company are often presented with many other problems as well, such as procurement cost increases, shipping cost increases, and resource management. Whether an enterprise manufactures goods directly to end-users, or to larger manufacturers as components for use in the assembly of other goods, they require the highest degree of efficiency possible. To do this, many small manufacturers are looking for affordable software solutions.
Many larger-scale manufacturers use Enterprise Resource Planning (ERP) software to drive efficiency. These programs are designed to integrate unparalleled cooperation for each of the essential departments within a manufacturing and distribution business to help ensure there are no scheduling, production, and shipping conflicts. This enterprise-level software allows a company's sales team to see what resources are available and not oversell, which strengthens that company's relationship with their customer base.
Smaller manufacturers cannot afford full-scale ERP solutions, as the software is often pricey and inherent on an organization outlying vital capital to make sure all the required IT infrastructure is in place. There are now several software vendors that are deploying their ERP solutions in the cloud. This Software as a Service (SaaS) computing model, which has been making huge strides in the software market in recent years, take many of the initial capital expenditures out of the equation by charging for a virtualized version of the software. Below are a couple of the top software SaaS ERP solutions for small manufacturing outfits.
Epicor Express Edition
Epicor is a software company that features many ERP solutions for small and medium-sized businesses. Their newest, and most affordable solution, is their Express Edition. They have taken their Epicor 9 ERP offering and have deployed a scaled-down version in the cloud. The Epicor Express solutions is a great solution for small and medium-sized manufacturing companies looking for an affordable option to coordinate information between the essential departments of their company.
The Epicor Express Edition application is a viable solution to assist small manufacturers to integrate their company's data and affordably streamline their customer relationship management (CRM), financial management, business intelligence, procurement and material management, and product and production management.
QAD On Demand
QAD, a company that has worked in manufacturing software for over 30 years, presents their SaaS application, On Demand. The software targets small and medium-sized businesses that cannot reasonably afford, or would need, all the components available in traditional ERP solutions.
QAD On Demand targets a core group of manufacturers; for automotive, life sciences, discrete products, consumer products, and food and beverage manufacturing. Within the scalable software they have solutions for financials, customer relationships, manufacturing, supply chain management, asset and risk management, as well as full set of analytics to easily track everything.
QAD markets this product as the only full-functioning ERP solution in the cloud. Whether this is indeed true or not, QAD On Demand is a great cloud-based option for small-to-medium-sized manufacturing firms. The flexible and dynamic functionality of the offering makes it one of the top SaaS options on the market.
If you own or run a small or midsized manufacturer, and you are searching for a way to integrate the core departments of your business, while improving efficiency and overall productivity, you should at the very least consider a cloud-based ERP solution. In fact, many of the scalable software solutions in the cloud can really benefit any growing business.
At SMART Services, we have a vast knowledge of cloud computing and the software solutions that can improve your company's overall workflow. If you would like more information on which ERP solution would work best for your manufacturing or distribution outfit, or you are just interested in getting more information on how you can reap major benefits from the integration of software housed in the cloud, call one of our experienced technicians today at 586 258-0650 .