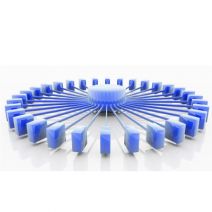 Some businesses are finding hardware virtualization to be an effective alternative to hosting their own servers in-house, and for good reason. They save money that would ordinarily be spent on electricity and operating costs associated with owning machinery. Similar to these virtual servers and workstations are what are known as "thin clients."
While bulky desktops can eat up a ton of electricity and space, the thin client is essentially a desktop terminal without a hard drive. That might sound pretty useless at first, but their truly redeemable factor is that they are incredibly versatile. The thin client doesn't have anything stored on it locally. It calls all of the applications and other mission-critical information from the server it's connected to.
It's not uncommon to find these devices on college campuses, public places like libraries, and in more recent years, the workplace. These machines generally only consist of the graphics interface, and for businesses who store their information and services on the cloud, they only need a web browser in order to function properly.
Are you considering setting up thin clients for your business? Here are three topics to think about when making your decision.
Fewer Costs Associated with Thin Clients
As you can expect, thin clients tend to not use up as much energy as a full-fledged workstation. This is because all of the computing power is coming from the server itself, rather than the hardware. Wouldn't that put a lot of strain on the server itself, though? Servers consume a ton of energy, producing excessive amounts of heat, and they generally require some sort of dedicated air-conditioned environment.
However, there's a solution for this. If your business takes advantage of virtualization services, you can move your server to the cloud and save on those energy costs, too. If you're not sure how to proceed with your server virtualization, SMART Services can handle this daunting task for you.
Minimal Points of Failure
This particular fact is a double-edged sword. If the server does indeed process the applications and information for several clients on your network, what would happen if something were to go wrong with the server? A thin client infrastructure is vulnerable to all of the same issues that plague server maintenance. If a hardware failure were to strike and cause server downtime, the thin clients would cease to function properly. On the other hand, this also means that thin clients rarely need the heavy-duty protection that the full-fledged workstation would. The only machines which need software-level protection from common threats would be the server, since the thin clients pull all of their applications and information from it.
It's imperative that you keep data loss and security in mind when using thin clients. SMART Services can arm your hardware with the best security solutions on the market, so you can concentrate on maintaining normal operations. We also have our powerful Backup and Disaster Recovery (BDR) solution available to prevent downtime and data loss in the event of a server crash. This is especially important when using thin clients, since all functionality relies on the server itself. Our BDR can take the place of your server in the event of a disaster, so operations can resume while you integrate a more permanent fix to the issue.
Flexibility and Scalability
If you find your business is really taking off, it's simple to add another thin client to your IT infrastructure. Think of it in these terms: When you hire a new person, they'll require a machine to work on. Equipping a workstation with all of the software they'll need to perform their duties can take plenty of time better spent elsewhere. With a thin client, you are basically just adding another terminal to your network, which calls all of your mission-critical applications and information from the server. There's no time-consuming installation process.
Similarly, thin clients are much cheaper than the average workstation. They can be replaced in the event of a hardware malfunction or theft with little consequence. Still, these are irritating situations to find yourself in, and unexpected expenses have the potential to break your budget. It's important to take preventative measure to react to issues before they become bigger, more-expensive problems.
SMART Services can help you understand the costs versus the benefits for all of your technology needs. If you're looking to make a big investment in new tech, or change up the way you're approaching your IT infrastructure, SMART Services can provide a free IT consultation to help you get on the right track. For more information about our managed IT services, give SMART Services a call at 586 258-0650.