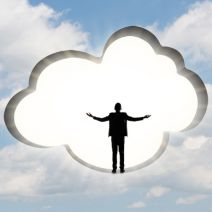 Cloud computing is a revolution which is bringing about a change in the way small businesses view the consumption and analysis of data. More businesses than ever before have joined the cloud trend. However, some are finding that their cloud solution isn't ideal, or they have presumptions about the cloud that simply aren't true.
This isn't to say that cloud computing is without its benefits. There are many reasons to integrate cloud computing into your current IT infrastructure, including increased access to mission-critical information and a more flexible work environment. However, there are some common problems associated with the integration of cloud computing that hinder some businesses' performance. David Linthicum of InfoWorld discusses some commonly seen problems associated with cloud computing.
Do You Have the Right Cloud Solution?
Your business is vastly different from any other out there, and as such, the same solution that works for your competitors isn't going to work for you in the same way. Thankfully, there are a ton of cloud solutions available for those of all different needs. The problem is finding the right one to integrate. You don't want to invest too heavily in a cloud solution, only to find that there's a better one out there.
SMART Services can help your business decide what the best cloud solution is for your individual needs. We understand that a complete overhaul of your IT infrastructure takes time and resources. Our trusted technicians can equip your team with the best solutions that allow for maximum accessibility and flexibility when it's needed most.
Do You Understand Cloud Security and Compliance?
When it comes to the cloud, business owners tend to fall into two categories; they either assume that the cloud is insecure, and therefore, shouldn't be used, or they assume that their cloud is impregnable. Both are dangerous gambits, especially when the cloud has the power to make or break your business model. If you don't take measures to protect your business, especially online, you'll be stuck in a rough spot when the worst happens and you get hacked.
Therefore, your business needs to exercise caution when integrating a cloud solution. SMART Services can help you secure your cloud-based data. We understand what to look for when it comes to network vulnerability and potential threats, and we're willing to share our knowledge with you.
Does Your Staff Understand Cloud Computing?
One of the most imperative parts of applying cloud computing to your business is whether or not your team, the ones who will be using this technology, understand how to use it. If they don't understand how to use your new cloud computing infrastructure, they won't be able to perform at maximum capacity. The time wasted trying to figure out how to operate the platform should instead be spent being productive.
SMART Services can help your team accomplish the most by providing any necessary advice and training concerning your new cloud solution. Essentially, SMART Services can assist your business with its cloud computing adventure from start to finish. Just give us a call at 586 258-0650 to learn more.