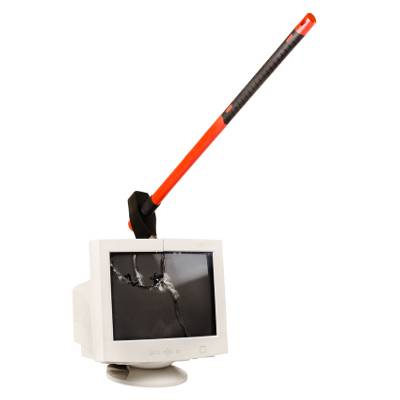 Some people refuse to upgrade their technology because they're ardently committed to the principle of "if it's not broke, don't fix it." We admire a person's resolve to stand up for their convictions, but there are cases when old technology gets in the way of profits. Here are four examples of old technologies that may be holding your business back.
CRT Monitors
Even though it's virtually impossible to buy a new CRT monitor (the old and heavy cathode ray tube screens), we still see these dinosaurs lurking in modern offices. A user clinging to their old CRT monitor may think that they're saving money by not having to spring for a new LCD flat screen, but the reality of the situation is that LCD monitors consume significantly less electricity than CRT monitors, which means that they will eventually pay for themselves.
Energy Star describes the savings like this, "Depending on your local electricity rate, this may entail a saving of up to $27/year and up to $137 on the product life. Together with other advantages —displaying a calmer image and possibly saving on air-conditioning— the LCD monitor may therefore be not only the best environmental option, but also economical in terms of cost-of-ownership for office-workers and power use." These savings will add up if your office implements a fleet of LCD monitors. In addition to seeing significant savings from switching to an LCD monitor, you will gain extra workspace on your desk.

Fax Machines
"Two things are certain in life: Death and faxes" --Benjamin Franklin, inventor of the fax machine. The fax machine is another outdated technology that we still see lumbering around modern offices. Thanks to advances in technology, from the 90's, it's now possible to run a business without the need of fax machines. Yet, there are still many companies that choose to keep a monument to 1970's innovation displayed in their office. When you add up all of the operating expenses of running a fax machine, like ink, paper, and electricity, as well as the time spent on maintenance and sending and receiving paper faxes, you will see how ditching your fax machine in favor of email will save your business a lot of money.
You may think that you need to keep a fax machine around just in case someone sends you an important fax, or if a client asks you to send them a fax because they live in 1985. For situations like these, a fax server solution from SMART Services will fit this need perfectly by allowing you to both send and receive fax machines as a PDF file from your email inbox. The amount of savings that your business will see by not having to print and file paper faxes will add up. Considering the amount of labor it takes to organize and fill a standard file cabinet, it's estimated that the total costs of one file cabinet can add up to $25,000. Basically, any action you can take to use less paper will save your business money.

Windows XP
Your business may be humming along just fine with Windows XP, but this won't be the case come April 8 when Microsoft pulls the plug on support for their popular OS. This fast-approaching day is essentially an "expiration date" because the software will no longer receive security patches from Microsoft. With a flood of security threats waiting to be released by hackers come April, this is the ultimate example of how running outdated software can be harmful to your business. Another way that upgrading to the latest OS can save your business money is in terms of productivity. A software's latest version has more efficient procedures in place and contains fewer bugs, which will reduce the amount of money lost from downtime.

PSTN Phone Systems
Otherwise known as traditional phone lines, the infrastructure making up the Public Switched Telephone Network (PSTN) is dying off. In fact, it's estimated that only 25% of US homes will even have landline service by 2015. Continuing to use traditional phone systems for your business will cost you a lot of money when it comes to your phone bills. Voice over Internet Protocol (VoIP) is the updated alternative to PSTN. VoIP uses the Internet to handle all of your company's communication needs, like phone calls, video conferencing, instant messaging, email, and more. Additionally, VoIP doesn't charge for long distance phone calls, this can net your business a savings of up to 80% on your phone bill compared to traditional phone plans.
When it comes to technology, the old ways are not always better. Technology is improved upon for the sole purpose of making tasks easier and saving money. Businesses will always look to improve sales in order to increase their bottom line, but if you have an office full of old technology, then increasing your profits may be as easy as upgrading your tech! To have friendly IT professionals assess your technology situation and recommend the best money-saving solutions that will fit your organization's unique needs, call us at 586 258-0650.