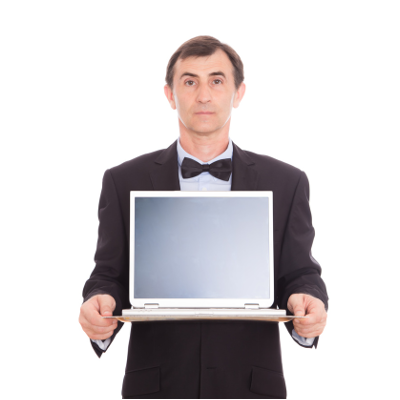 You can't do everything yourself. Often times, you spend too much of your day dealing with unforeseen situations that arise. This makes completing all the tasks you've laid out for yourself extremely difficult. Implementing best practices will help you manage your time better, have fewer surprises, and allow you to focus more on making your business profitable.
How do you learn these money saving best practices? At SMART Services, we consider ourselves more than a computer repair service, we are also in the business of helping our clients and their staff implement best practices. This way, you can have the ability to complete all of the work you have planned and hoped to accomplish. Imagine if your whole company was like this? What would it be like to have a focused staff that knows industry best practices? Having a crack team like this can provide your business with maximized productivity.
To illustrate how nice it is to have the help of a trained professional who knows best practices that prevents time-wasting surprises, consider for a minute that you are single with a dog. You get up for work and sleepwalk through your regular morning routine. You take a shower, shave, brush your teeth, and get dressed. You realize, as you step in something moist on your way down the stairs, that your dog is sick. Now you have to call the veterinarian to make an appointment, call into work and tell them you will be late, forgo breakfast, load the sick dog in the car, and drive to the vet.
After you drop the dog off at the vet, you go to work, late. Not only have you missed out on a couple of hours of productivity, you also remain distracted because the doggy slobber on your leg keeps reminding you about your sad dog. After a disjointed and not-so-productive day, you return to the vet to pick up your dog, pay for the medication, and head home.
Now imagine an alternative scenario to the same events. This time you have a butler.
You're single with a dog and a butler. You wake up, shower, shave, and brush your teeth. Your butler has laid out your clothes for the day and has made you breakfast. You get dressed and you make your way down the stairs without incident. You sit down at the table and eat your perfectly prepared eggs and read the paper; that's when you're notified by the butler that your dog is sick and the veterinary appointment has already been made. You then pet your sick dog and leave for work on time. Later that day, your butler texts you a message that your dog is back home with medication; you go on to have a productive and slobber-free work day.
A butler manages situations for someone much the same way SMART Services manages IT situations for clients. A butler, however, doesn't just become a butler. Like every other professional, a would-be butler requires training before they can do the job succinctly. The same principles apply for managed service providers. Just as a prospective butler would attend The Institute of Modern Butlers, IT professionals need to go through training to learn industry best practices (minus the tux).
SMART Services goes above and beyond to provide your business with outstanding butler-level IT service. What if you already have someone on staff that handles IT? SMART Services can work alongside your technicians and remotely handle the menial tasks like updating software (which is equivalent to cleaning up dog vomit). This concept is like SMART Services being a butler for your butlers, so that your butlers can do more, thus freeing up you to do more. Either way, it's nice to have extra help so that you can focus more on your business and be more productive!
To learn more, jiggle a hand bell repeatedly until someone brings you a phone. Then extend your pinky and dial 586 258-0650.