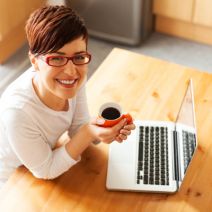 SMART Services is Ready to Help Your Business Make the Transition
Windows 10 is making its rounds in the business environment, which is hardly surprising. Microsoft is known for making great operating systems that are ideal for both consumer use and workplace productivity. Though Windows 10's adoption rate has been somewhat slow, it's expected to be on par, or even surpass, other Windows OSs in terms of sheer usability over the next few years.
Gartner predicts that Windows 10 will be used by half of all businesses come January 2017, which means that it will be one of the most widely used Windows versions so far. This is somewhat surprising, considering how its adoption rate has been relatively tame thus far. Businesses still like using their familiar Windows 7 operating system, and thus, feel little need to upgrade. However, several noteworthy factors will affect the adoption rate for Windows 10 over the next few years.
For one, Windows 7 support is slated to end January 2020. At that time, Microsoft will cut the cord on its aging operating system. This means that users of Windows 7 will be forced to upgrade to something more recent. Considering the fact that Windows 8 and 8.1 are as unpopular as ever, Windows 10 is the natural choice for a replacement.
According to ZDNet:
Gartner said many organizations are planning to begin pilots for Windows 10 in the first half of 2016, and will broaden their deployments later in the year. It expects that at least half of organizations will have started some production deployments by the beginning of 2017, with an eye to completing their migrations in 2019.
In other words, it will be quite some time before most businesses adopt Windows 10, but they're still making plans to do so in the near future. In fact, up until very recently, the Windows 10 adoption rate was staggering, surpassing both Windows 7 and Windows 8. Granted, these figures fail to take into account the primary reason adoption has been so incredible: the free download. This free download is only for the first year that Windows 10 is available to consumers, but businesses want to make sure that they're going to run into minimal resistance when upgrading to their new operating system.
Just because everyone else is waiting to take advantage of the latest Windows operating system, doesn't mean that you have to. You can get a leg up on the competition by upgrading to Windows 10 early, before your competitors decide to finally make the switch. Doing so will give you access to great new features that will help you fully utilize your business's technology solutions, as well as provide the peace of mind knowing that your tech is up-to-date and ready to go.
As a Microsoft Certified Gold Partner, SMART Services has 25 years of experience and has helped hundreds of agencies and businesses make the transiton to the latest Windows OS. We can advise you on legacy applications and answer your business's questions about Windows 10, including how and when you should make the switch -- that's all part of our commitment to provide your business with proactive, fast and expert tecnology services. Give us a call at 586-258-0650.